Car Rental STAPIGO Invites you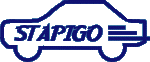 Car Rental STAPIGO offer 10 Mercedes cars, both to ordinary usage or luxury cars rented with a driver.
We have many yers of experience on car market, and we are sure that needs regarding to cars will be fullfiled.
Our car rental is connected with car garage. That is a guarantee for the best quality and god conditions of our vehivles during the whole year.
Car rental is open from 08:00.am till 05:00.pm
WE INVITE YOU